Group Fitness - Back to Basics
September 2, 2022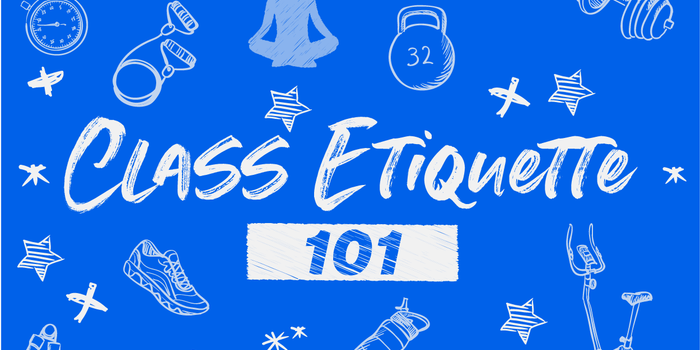 Group fitness classes can feel overwhelming if you're not sure what to expect. We're here to help! Whether you're new to group fitness, or you're an avid class taker, it never hurts to brush up on the basics of class etiquette. Below are a few guidelines to help set you, your instructors and fellow members up for a fun and successful class!
RESERVE YOUR SPOT
Book your spot for class in the app up to 25 hours in advance. Booking ahead is the best way to guarantee your spot and walk into class with peace of mind. Here's a tip – if you have a class you know you definitely want to attend, set a reminder on your phone to reserve your spot!
THE 5-MINUTE RULE
Arriving to class a few minutes early is the best way to start in a relaxed state of mind. (Running into yoga right as it starts sounds stressful for you and everyone else - the opposite of what yoga is supposed to do!) This also will allow you time to grab the equipment you need and if you're new to the class, introduce yourself to the instructor.
Also know that if there are members on the waitlist, they're allowed into class when the clock strikes - which means you risk your spot if you're late!
Lastly, after 5 minutes the doors close and it's too late to join. Jumping in later than that can be disruptive to the class experience and means you missed the warmup and introduction.
Moral of the story, please be early! Take time to set up your space, get in the right mindset, and get to know the people around you!
PHONE-FREE ZONE
Being on your phone not only takes away from your class experience… it can also be distracting for those around you! Set aside this time to be present and enjoy the class… phone-free!
DRESS FOR SUCCESS
Wearing the right clothes and shoes is important not only for you to have a comfortable experience, but also to protect our studios and equipment. For HIIT + Strength classes, athletic shoes and active wear are required. In barre, you'll be comfortable in bare feet, socks or barre socks. In yoga or Pilates, it's recommended to go barefoot.
BE PROACTIVE
Let your instructor know about any injuries you have before class. The instructor can tell you if there are any special modifications to make during the class or any movements you should skip to prevent further injury.
Part of the fun in group fitness is everyone working hard and doing the same (or similar) exercises, so let your instructor help you get the best workout you can!
RESPECT YOUR SPACE
Our members help make our group fitness studios and classes a welcoming, soothing place to work out. Be mindful of the space you take up in class and be sure not to encroach on someone else's "bubble." Save the chat with your friend for before or after class – this will allow everyone to be able to focus on the instructor.
Don't forget to wipe down your equipment after use. Wipes, spray bottles and towels are available in all of our studios for quick and easy clean up! Although our housekeeping team will clean up after class, this helps protect them from germs and makes cleanup smoother.