A Guide to Playing Golf with Your Kids
September 22, 2021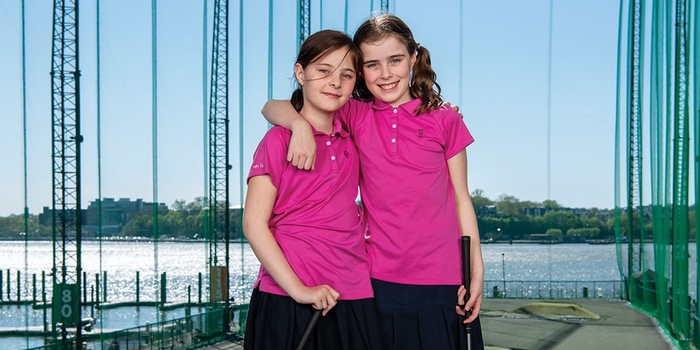 Golf is a great sport for kids to learn. Not only is it one of the rare sports that you can learn and play at any age, it allows kids to make great social interactions with other players in a non-contact sport. Key to playing golf with young children is making it fun! Interested in getting your kids started and making memories with them on the fairway? Read on for advice from one of our top teaching pros, Steve Bourbon on how to make golf fun for kids.
The Correct Clubs:
It's important to have the right size clubs for an easy fit and being comfortable while you play. U.S. Kids Clubs are color-coded based on height so it's super easy to pick the best club size for your little ones. Remember, you don't need to start out with an entire set of 14 clubs. A starter set of five is a perfect place to begin. If you are really just starting out, rent clubs for the first few times to make sure that it's something your kids are interested in before you invest in new clubs.
Making Practice Fun:
The trick to making practice fun is to make sure you sneak in sound FUNdamentals while playing games with your kids. After all, they are kids so PLAY with them. Never try to make the practice seem mandatory or feel like a chore. Also, never pressure or force your child into playing. Let the love for the game naturally hook them. In addition, when you get to the range or course ask your kids what they want to practice and start there. Always try to give words of encouragement throughout the experience so that they feel your support and get excited to keep playing and trying new skills.
Games to Play:
Steve suggests to try to play chipping & putting games with kids. These games teach them how to hit different shots while teaching them to score. At the same time, it teaches them the etiquette of honor (order of play), marking the ball and fixing ball marks. Closest to the pin shots like getting the ball in 8 ft, 5 ft, and 4 ft rings for points is also a really fun game that you can play together for some friendly competition! Other great games to play are balance and speed games. For balance, ask your child to swing the club and then hold the finish position for three full and slow seconds. For speed, have your child grip the club upside down and make practice swings so that they can hear the "swoosh" in the air – repeat and try for 100 swings!

THANK YOU TO STEVE BOURBON SENIOR PRO, PGA
---