Chelsea Piers Connecticut Partners With Rod Martin Squash
October 22, 2020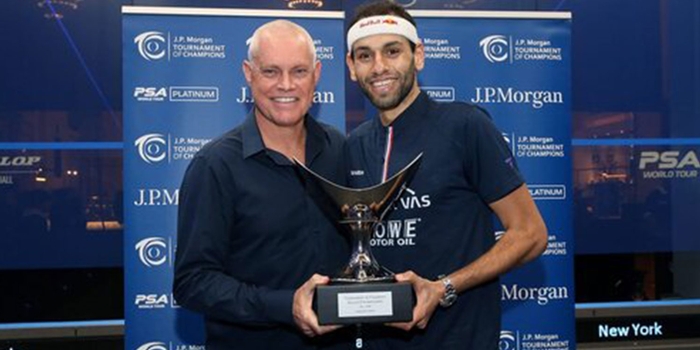 Chelsea Piers Connecticut has recently partnered with Rod Martin Squash for elite squash training at the Chelsea Piers Squash Club in Stamford. Rod Martin Squash (RMS) provides professional coaching for aspiring elite and professional players. RMS has specialized in individualized training for juniors and professionals for the past 15 years.
Bill Mountford, Director of Racquets at Chelsea Piers Connecticut is overly excited to have Rodney and his coaches join the Squash professionals at Chelsea Piers. RMS staff will complement the existing Chelsea Piers Squash coaching staff and be a resource for elite competitive players. All RMS coaches have been coached by Rod during their playing career and therefore, understand and coach using the same methods. This allows for consistency in training throughout the program.
Rod brings 20 years of professional playing experience as well as 20 years of coaching to the program. Combining the Chelsea Piers Connecticut and RMS track record for taking high-level players to the collegiate level and beyond makes this coaching team perhaps the most powerful in the business. Since the inaugural RMS Class of 2011 and the opening of Chelsea Piers Connecticut in 2012, dozens of players have been recruited to the top Ivy League, NESCAC and PAC-12 colleges. Athletes have gone on to play at: Harvard, Yale, Princeton, Dartmouth, Brown, Columbia, Cornell, University of Pennsylvania, Stanford, Middlebury, Bates, Amherst, and more.
"I am very excited to be part of the Chelsea Piers Squash program. Chelsea Piers has one of the best squash facilities in the world and an excellent team of teaching pros with a proven track record of successfully bringing athletes to the sport," commented Rod Martin. "Our specialty in elite training, college placement, and competitive match play will add to the already strong program Chelsea Piers has in place. Parents with aspiring young athletes will have a clear and consistent training and playing path if they wish to play competitively and are considering collegiate squash opportunities".
The Chelsea Piers squash facility offers 11 singles courts and 1 doubles court, accommodating both State and National competitions and is consistently selected to host US Squash regional competitions. The squash programs are designed for athletes of all levels to train in classes, clinics, private lessons, match play and summer training camps.
For more information on Rod Martin Squash, click below.
---
Learn More about Squash Programs at Chelsea Piers:
CONNECTICUT