Club Etiquette 101
January 31, 2023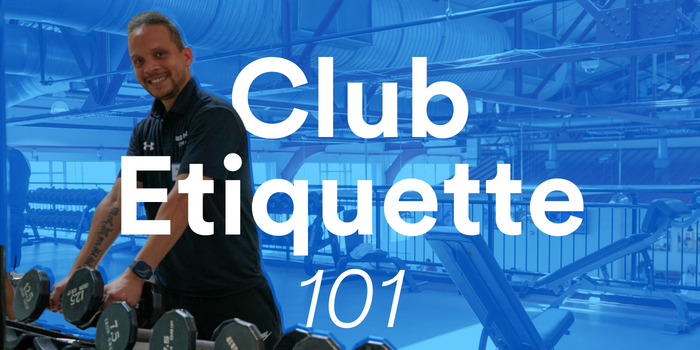 Whether you're brand-new to the club or a seasoned member, the start of a new year is the perfect time to review our club policies and member etiquette.
The most important thing to keep in mind is that these etiquette guidelines and our club policies are here to create a positive experience for all of our members. Remember that we are first and foremost a supportive and inclusive community of like-minded folks who are here to exercise, make ourselves better, and recover in a safe, welcoming environment.
---
Be Mindful Of Space
The club is a shared environment, and it's important to respect the personal space of those around you. Take up as much space as you need to do your workout, but try not to take up more. Be conscious of how long you've been working on a particular machine or if you see another member waiting to swap in (and please avoid hogging spaces while scrolling through your phone!)
---
Wipe Down Your Equipment
Do your part to keep our club clean and our members healthy by fully wiping down equipment or mats after you use them. This helps keeps things sanitized between routine deep cleanings from our housekeeping team throughout the day. Don't forget to clean and return your equipment to the appropriate location after classes, too!
---
Leave It How You Found It
Putting those dumbbells back where you found them not only helps keep the club looking clean – it also keeps the club organized so that finding the equipment you need is easy. So, please remember to put everything back and return our spaces to how you found them to keep things running smoothly.
---
Don't Drop Your Weights!
Dropping weights disrupts everyone around you and, could hurt someone accidentally. Be mindful of how you're finishing a set and putting the weights on the ground so you don't startle someone working out near you or, in Chelsea, someone below you in the locker room or massage rooms.
---
Keep Our Classes Classy
Although we love the enthusiasm, please don't register for a class unless you're sure you can go. Not showing up to class means other members miss out on grabbing that spot. Be sure to arrive for class 5 minutes before the start time. This will allow you to be properly checked in, gather the necessary equipment, and hear important instructions from your instructor. Did something come up? Class cancellations are permitted in the app up until 1 hour before class. Failure to cancel in time will result in a strike on your account, and after three strikes you won't be able to book classes for seven days.
---
Locker Room Etiquette
Always consider the comfort of your neighbors by not using your phone or camera-enabled device while in the locker room. No photos or loud conversations, please! Also keep in mind specific rules for the steam room and sauna, posted outside of these spaces for your reference. The locker room and its amenities are designed to be your own personal escape from the city, and we ask our members to keep the space safe and appropriate for others at all times. Any inappropriate behavior will result in termination of your membership.
---
Bring Your friends!
We love sharing our space with your friends, but you must be present to do so. You receive 6 complimentary guest passes per year with your membership, and you're free to bring whoever you'd like—as long as you're there to check in with them. Guests cannot be registered for classes but if there's space at the beginning of class, they're more than welcome to join in on the fun. If they're interested in membership, you'll get a referral bonus if they join that can be used towards personal training, massage, babysitting, merchandise or more guest passes!
---
We're An Adult Fitness Club
At Chelsea Piers, we love kids, but all members and guests must be 16 or older to use our fitness clubs. That said, we offer Kids Clubhouse babysitting services and welcome children ages 3 months and up! Children cannot be left unattended anywhere in our fitness clubs, including our lobbies. Call the front desk to schedule your babysitting session and we'll watch over them while you work out. Additionally, at our Chelsea club, we have trainers who specialize in coaching kids in swimming, triathlon, basketball, volleyball and track – Chelsea members are welcome to purchase personal training packages for their children.
---
No Electronic Vehicles On-site
We understand that members have electronic and battery-powered transportation vehicles (like e-bikes, skateboards, and scooters) and that they may be your primary mode of transportation to our clubs. However, it's unsafe to have them inside our facilities for several reasons. Please plan accordingly and consider locking up these types of devices at our available outdoor bike racks or designated outdoor storage spaces. Ask the front desk for more information!
---
Click here to read through our official club policies.
Questions? Please stop by the front desk or contact us.