CP-AC Gymnastics Team Member Caitlyn Walsh Qualifies For Level 9 Eastern Championships
April 26, 2017
(Stamford, CT – April 26, 2017) – CP-AC Gymnastics team member, Caitlyn Walsh of Rye NY, has qualified for the Level 9 USAG Eastern Championships after taking third place in the Regional Championships held in Springfield, MA. The Level 9 Eastern Championships will take place April 28 – 30, 2017 at the Summit Sports and Ice Complex in Lansing, Michigan.
"This is an incredible opportunity for Caitlyn to compete on a National scale and represent CP-AC Gymnastics," commented Girls Team Coach Ann Roth. "She has made a tremendous effort this past year and has grown individually as both an athlete and a gymnast. "
Additionally, the CP-AC Level 3 and Level 4 girls' gymnastics teams each placed third at States.
Some of the notable individual accomplishments include:
Delphine Desjardins, 9: Riverside, CT – Level 5 All-Around State Champion
Maddie Anderson, 11: Stamford, CT – Level 5 All-Around State Champion
Lauren Heller, 12: Stamford, CT – Level 6 Bar State Champion
Bailey Cahill, 12: Darien, CT – Fifth place on Vault at the Level 8 Regional Championships
Justin Benitez, 10: Stamford, CT – Second All-Around at the Level 4 State Championships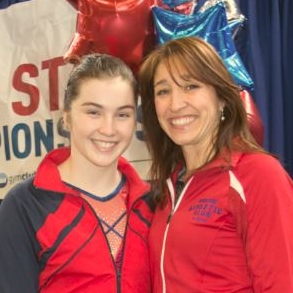 CP-AC Gymnastics Team
Ann Roth leads the CP-AC Gymnastics program. Ann spent more than 21 years working throughout the northeast and midwest with notable clubs such as; Lafleur's, Swiss Turners and CGA (Connecticut Gymnastics Academy) and joined Chelsea Piers Connecticut in June 2016 to build a competitive team. The Junior Olympic team is comprised of both a boys and girls team and ranges from Level 3 introductory competitive gymnasts to Level 10 gymnasts.
About Chelsea Piers Athletic Club
Chelsea Piers Athletic Club provides an unprecedented opportunity for student-athletes across eight sports to train and compete under one unified banner. CP-AC athletes have full access to both off-surface training, led by certified personal trainers in our dedicated Competitive Team Training Center, and on-surface coaching in their sport of choice. Our world-class facilities attract top-level instructors from around the world, including seasoned and certified youth coaches with Olympic, NCAA and professional backgrounds. Their goal is to prepare athletes for success, not only in their sport of choice through age-appropriate goal setting and training, but also in their lives through the development of essential teamwork and leadership skills.
###
Contact:
---