Pumpkin Mousse Recipe
December 1, 2022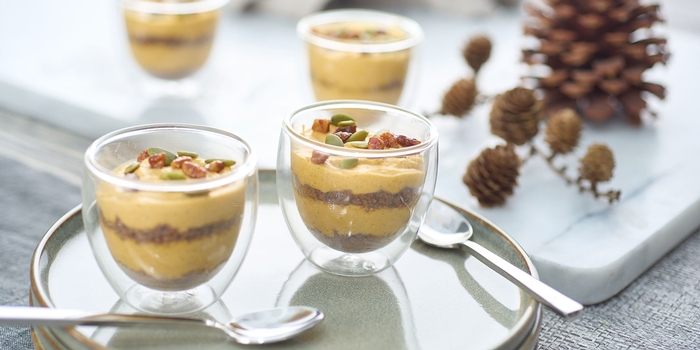 Nothing complements the holiday season more than pumpkin. These Pumpkin Mousse Cups have a decadent texture, delightful crunch, and taste like curling up next to a warm fireplace feels. Enjoy this holiday recipe from the kitchen at Canteen, our new in-club café!
Pumpkin Mousse Cup - Serves 6
Ingredients
1⁄2 cup cream cheese
1⁄3 cup brown sugar
1 tsp pumpkin pie spice
1 cup pumpkin purée
1⁄2 tsp salt
1⁄2 cup heavy whipping cream
2 tbsp confectioners sugar
1 tsp vanilla
1 cup ginger snap cookie crumbs
4 tbsp butter, melted
1⁄4 tsp salt
3 tbsp pecans, roughly chopped
3 tbsp pumpkin seeds
DIRECTIONS
Using a kitchen mixer with the paddle attachment, whip together cream cheese, brown sugar and pumpkin spice until light and fluffy (around 5 minutes on medium speed).
Add the pumpkin purée and continue mixing on low until it is well incorporated. Turn off mixer and transfer this mix to a large mixing bowl using a rubber spatula.
In a clean kitchen mixer bowl with the whisk attachment, on medium speed setting, whip together heavy cream, confectioners sugar and vanilla until it is airated, firm, and stiff peaks form (around 5 minutes).
Slowly, in batches, fold the cream mix into the pumpkin mix with a rubber spatula, folding carefully to not lose air bubbles in the mix. Transfer mix into piping bag.
Pulse the cookies in a food processor with salt until broken into small and even pieces. Slowly add the melted butter and pulse until mixed well.
Spread half of the mix evenly between 6 small glasses (roughly 1⁄2 inch thick layer) using a spoon.
Pipe a roughly 1 inch thick layer of pumpkin mousse mix in each glass on top of the crumble.
Repeat steps 1 and 2 to use the last of your mix and crumbs.
Top with toasted pumpkin seeds and pecan pieces.