Remembering 9/11: 20 Years Later
August 31, 2021
It's been 20 years since the tragedy of September 11, 2001, and yet it remains fresh in so many New Yorkers minds and hearts. Although the day is one filled with heartbreak, loss and pain, it is also one of resilience, remembrance and unity.
There are so many different perspectives and memories related to that day in history. No matter where you were or what you were doing 9/11/01, you will never forget the feelings as the events unfolded. Whether a New Yorker, or watching on TV from around the country, there was a personal drive to help your fellow Americans both near and far from home.
As a close neighbor, Chelsea Piers played a pivotal role in the aftermath of 9/11. We sat down with Chelsea Piers employee, Mike Braito, SVP of Operations and Security at Chelsea Piers, who was one of the many employees who played a role that day and the following weeks.
To start, how long have you worked at Chelsea Piers?
I started working at the Piers in 1995 when we opened and have been the Vice President of Operations and Security at the Piers for 25 years. I was six years on the job when 9/11 happened in 2001.
Although it's been 20 years, I am sure the events of that day are still fresh in your memory. Can you describe what you saw when you first realized what had happened downtown?
I can remember every detail from that day and following weeks like it was yesterday. It was one mile straight down the West Side Highway from Chelsea Piers to the World Trade Centers. I was on the roof that day with two of my former colleagues trying to assess the situation when we heard the second plane. We watched the second plane crash into the tower in complete disbelief. As soon as we saw that, we knew this was no accident and that chaos was about to unfold in the city and around the country.
What was your first reaction as the head of operations and security for 100 acre property one-mile from Ground Zero?
Since we knew this had to be an attack of some sort, we immediately launched our emergency action procedure and locked down the entire Chelsea Piers site from Pier 62 to Pier 59 for the safety of our customers and employees. No one was able to enter the Piers. Children were held in classes under the care of our staff. We started to see hundreds of people running up the West Side Highway covered from head to toe in dust and debris. Working with our catering partners Abigail Kirsch, we opened Pier 61 to set up a water and hose station and we hosed people off so that they could clear their faces and gave them water to drink. People started congregating in Hudson River Park north of us.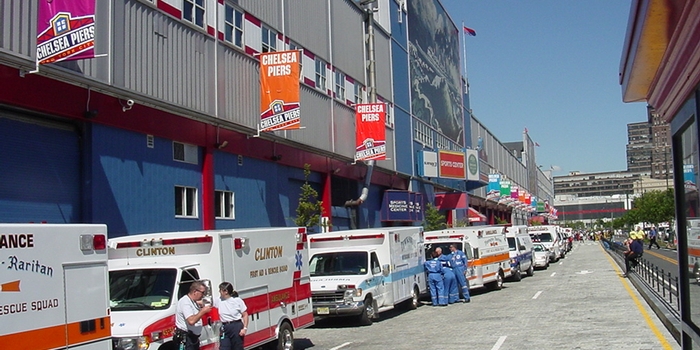 40+ ambulances staged at Chelsea Piers waiting to be dispatched to Ground Zero.
With hundreds of customers at the Piers and thousands of people fleeing from Lower Manhattan, what did you do operationally?
We regularly practice and train our employees in emergency procedures. Of course, we never imagined the events of 9/11 in our role play. However, many of the core skills took over; calmness, organization, crowd control, first aid, etc. All of our employees jumped in doing what they could. We had not realized until that day how much our community saw us a community center of sorts and once people arrived, they stayed for food, comfort, water, and a feeling of safety. The FBI and NYPD quickly set up at Chelsea Piers and assisted our partners at Spirit Cruise Lines with clearance to operate their vessels. Spirit spent the day filling up their boats with 500 to 600 people at a time to transport them across the Hudson River to New Jersey. They did this for hours until everyone was transported home, safely. This played a large role in keeping people calm and getting people home and away from lower Manhattan.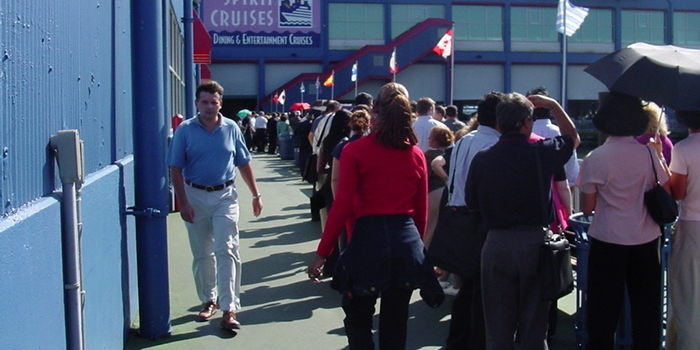 Hundreds of people lined up waiting to board Spirit Cruises to get home across the Hudson River.
What role did the Piers play following the attack?
Immediately following the attacks, more than 40 ambulances lined up along our east roadway to wait to be called down to the site for survivors. The sound stages were set as MASH style hospital units in case hospitals exceeded their ER capacities. Unfortunately, they were not needed. FBI and NYPD took over the Piers to use the offices that day as the area closer to the site was an active fire and rescue scene. The Field House set out mats for rescue workers to sleep if they needed breaks. The city was in crisis mode. There were media reports in the coming days and weeks that Chelsea Piers was a place to bring medical supplies, clothing, food, water, dog food, and anything else you can donate. People left their apartments with bags of their own personal supplies and brought them to the Piers as donations to bring to Ground Zero. We had thousands of bags of supplies and had to transform The Roller Rinks into the staging area for the donations.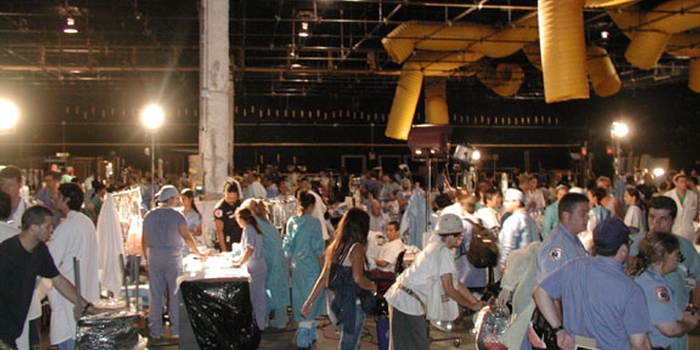 Tons of supplies in all of the parking garages including food, water, supplies, clothing and more.
It's amazing and inspiring to hear how many New Yorkers and Americans all over the country really stepped up to help their neighbors both near and far. Do you remember feeling a sense of unity?
It was truly remarkable and inspiring to see how many people just came to Chelsea Piers and started leading volunteer teams for absolutely everything from medical, to food, to clothes, supplies, you name it, and they did it. We had ambulances coming from New Jersey, Pennsylvania, Tennessee, and other places arrive to help in any way that they could. I truly believe that Chelsea Piers, like the Javits Center, was the saving grace for New Yorkers to congregate, feel a sense of community and seek ways to help in any way that they could. New Yorkers have tremendous pride in their city. Coming to work every day, I was always touched how the highway was lined 24 hours a day with people cheering on the rescue workers driving debris north up the highway.
Lastly, what is one takeaway from this piece of history that many Americans and New Yorkers like yourself were a part of?
Until 9/11, I don't think I fully understood how much Chelsea Piers was a community gathering place for New Yorkers. On 9/11, we helped the survivors, and also the many who came to find comfort, community and a safe place to gather. Chelsea Piers is proud to have helped our community in any way we could. We had the chance to help again during the blackout of 2003 and while I hope we do not see any more tragedy, I know our team will be there again if needed.
A big thank you to Mike Braito for sharing his story. We will never forget the members of our community and city that we lost that day and are forever grateful for all the brave men and women and for our neighbors near and far who came together when we needed it the most as a city and a nation.