Senior Health and Fitness Offerings
May 26, 2021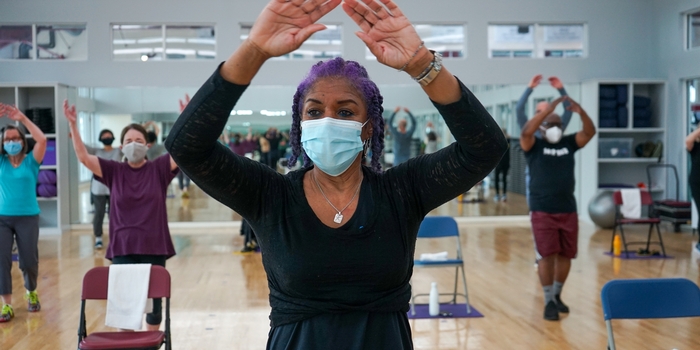 Learn about the fantastic programming and community available for senior members at Chelsea Piers Fitness.
For some members of Chelsea Piers Fitness, being a part of a community is a huge benefit of membership. This is especially the case for our senior members, by far our most tightly-knit community of members at our Chelsea club.
Fresh Start, a mid-morning class geared toward senior members, was created by personal trainer Sharone Huey back in 2005. The idea for the class started when Sharone and other Chelsea Piers staff noticed that a few members were going to another club to take fitness classes that catered more to their needs. "The goal of this class is to help the participants get stronger, more agile and limber," said Sharone.
Wondering what to expect in a Fresh Start class? You'll warm up with about 10 minutes of cardio, then move into stretching and balancing exercises. You'll use a chair in class for additional support and balance. Then, after a series of upper and lower body strength exercises, Sharone will lead a nice cool down with additional stretching. Sharone keeps the playlist fresh with a mix of oldies and modern music, which keeps the energy high throughout the class.
Fresh Start is recommended for seniors of all fitness levels, including beginners. Want to get out some pre-class jitters? Arrive 10-15 minutes early to chat with fellow members, as well as your instructor. "This class has fostered a great social community at Chelsea Piers," said Sharone.
Another familiar face for many of our seniors is Tylor Thomas. Checking in members for Fresh Start is always the highlight of Tylor's day. "I love talking to and connecting with the Fresh Start community. It is my time to hear about hot topics, new recipes, shows, and adventures that our members have experienced." As our Lead Fitness Concierge in Chelsea, Tylor had a few other recommendations to share for older members looking to switch up their fitness routine. "Pilates is a great workout that not only is low impact, but also can be spine safe. There's also Yoga Fundamentals on Wednesdays and a Restorative Flow on Sundays!"
If you're looking to take your fitness programming to the next level, we have a great group of Personal Trainers to choose from, including several who specialize in senior fitness and health. "Obviously, there is the great Sharone, but there are others, like: Tabbitha, Orest, Laurie, and Harold. We also offer private Pilates sessions that can do wonders on injured bodies - Jason and Angelica are fantastic."
---