Lenox Health Greenwich Village Expert Insights: Staying active as we age
November 1, 2019
By Dr. Elan Levy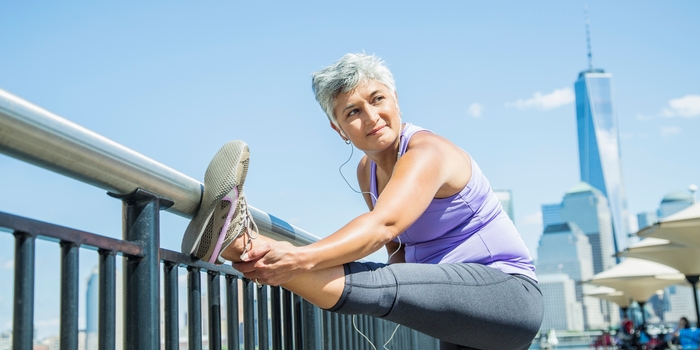 We all know how important it is to exercise. But staying active as we get older can be challenging due to health problems, aches and pains, or concerns about injuries or falls.
The good news is many of the physical challenges associated with aging can be overcome or drastically mitigated through exercise. It has enormous benefits that will help you stay active, sharpen your memory, boost your immune system, manage health problems, and increase your energy. In fact, adults who start exercising later in life report feeling better than ever because they are making more of an effort to be healthy than they did when they were younger.
Exercise helps you control your weight, maintain your strength and agility, increases vitality, improves sleep, gives your mental health a boost, and can even help diminish chronic pain. Exercise can also have a profound effect on the brain, helping prevent memory loss, cognitive decline, and dementia.
Regardless of your age or how inactive you've been in the past, it's never too late to begin exercising. Here are some lower-impact activities to get you started:
Walking and hiking — Walking and slow hiking will give your heart and lungs a workout while toning and strengthening your muscles. Walking improves circulation and bone mass as well. You'll also notice a big improvement in your mood and your ability to get a good night's sleep. Best of all—it's free!
Water aerobics and swimming — Often called the near-perfect exercise, swimming is easy on the joints but forces you to use all large muscle groups. Because it is one of the few exercises where you don't have to worry about pain, it is very popular for those with arthritis and osteoarthritis. Swimming and water aerobics are also effective in reducing high blood pressure, improving heart health and mitigating knee pain in overweight seniors.
Yoga — Yoga provides a gentle way to improve strength, flexibility and joint health. It is especially beneficial to those trying to improve balance and coordination. Since yoga concentrates on breathing and listening to your body it can improve respiration, lower blood pressure, and reduce feelings of anxiety.
Tennis — The small strides, core movements and intense concentration associated with tennis require players to be creative, agile and coordinated. In addition to keeping our brains active, playing tennis can reduce the risk of heart disease and osteoporosis.
Golf — Golf provides a great cardiovascular workout while avoiding stress on weight-bearing joints. Walking from one hole to the next, carrying your bag and swinging, all help to increase your heart rate and blood flow. The physical movements combined with the visual stimulation and strategies involved in playing golf have also shown to improve cognitive health and reduce stress.
---
Board certified in emergency medicine, Elan Levy, MD, and our team of emergency care professionals are here to get you the help you need, when you need it. Take a look inside our state-of-the-art emergency department at Northwell.edu/LenoxHealthED.