Top 5 Tips for Playing Golf in the Cold
October 29, 2021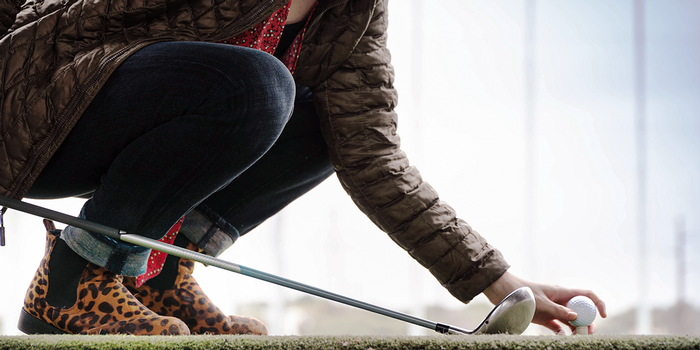 Just because it's November doesn't mean it's time to put the Clubs into storage until the spring. We sat down with Golf Club Teaching Pro Tim Townsend for tips on playing golf during the cold months in NYC. Tim's played hundreds of rounds of golf in the winter. If it's not snowing, he's on the course. Tim says that Winter golf in New York can be challenging but lots of fun!
Tim's top tips for playing golf in the cold:
1. Dress is LOTS of layers.
The goal is to dress warm without losing mobility. The best types of layers include leggings under your golf pants, long sleeve shirts or turtle necks with a lightweight jacket, form fitting gloves and a wool hat.
2. Play FAST.
The best news about winter golf is that the summer crowds are gone. This allows you to play the course at a faster rate and not stand in the cold for longer than needed.
3. Allow for LOSS of distance.
Due to the cold, the golf ball simply will not compress as much causing your distance to become shorter than your distance in the summer months. Don't panic, it's normal. Allow yourself the loss of distance.
4. Practice on INDOOR Simulators.
When there's snow on the ground or it's well below freezing, bring your game inside. The Golf Club offers indoor Full Swing Simulators where you and your golf buddies can play over 55+ Championship courses from around the world. The sims also let you work on your swing with video screen analysis so you will be in top shape for peak golf season.
5. Take advantage of the heated range stalls.
Another way to keep in golf shape over the winter iss to regularly to regularly hit the driving range. Stay warm under the heated and weather protected stalls at The Golf Club. There are many peak and off-peak options for both the weekdays and weekends. Need some extra training in the off-season? Sign up for a few private lessons or a golf school at the Academy!
Don't let the weather ruin your fun. Dress the part, play fast, utilize the sims + heated stalls and you'll have a great time and improve your golf game in the off-season!
---
About Tim Townsend:
Tim started his career at Fenway Golf Club in Scarsdale, New York where he worked for seven years under the tutelage of Jimmy Wright (Metropolitan PGA Hall of Famer and four-time Met PGA Player of the Year). From there he went on to Sleepy Hollow Country Club in Scarborough, New York where he worked for Jim McLean (PGA Teacher of the Year and currently one of the Top Five Teachers in the Country). Tim was privileged to work with and watch Jim McLean as he worked with such top tour players as Tom Kite, Brad Faxon, Curtis Strange, Hal Sutton and many others.
Tim has been named Chelsea Piers PGA Teacher of the Year in 2004 and 2005 and Coach of the Year in 2011. In 2010, Tim was recognized for his ten years of service to the Chelsea Piers Golf Academy.
To read more about Tim or to book a lesson with any of our Pros, click here.
---
For more information on the Golf Academy, lessons, heated stalls and sims:
Golf Club