Training Through Adversity
September 21, 2021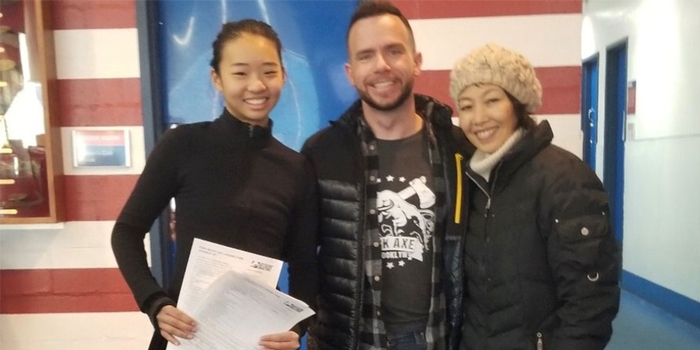 Sky Rink Skater, Sakura Yanamaka won a gold medal in the Spin Event, and a bronze medal in the Jump Event, at the 2021 Excel National Figure Skating Festival which took place in Strongsville, Ohio in August 2021. This is an impressive accomplishment after training through the pandemic and doing off ice lessons via Zoom during the rink closure over the past year.
Sakura, who is 16 years old, started skating recreationally in Washington, DC when she was four years old. She lived in Rwanda for a year when between the ages of five and six years old, and then resettled in Washington, DC before moving to New York City in 2017. She has been training at Sky Rink ever since, but her skating career has blossomed under the tutelage of Sky Rink coaches Helen Hyun-Bowlin and Brandon Hanson who has been training Sakura for the last two years.
This fall Sakura enters her junior year at Stuyvesant High School where her extracurricular activities include writing for her school paper, the Stuyvesant Spectator. Her goal in figure skating is to become a double gold medalist by passing the senior tests in the disciplines of Moves in the Field and Freestyle. Making it to the top level in figure skating takes a lot of discipline and perseverance, but as Sakura explains, "I like figure skating because it is so difficult. The process of falling, practicing, and finally mastering a skill is something that I take with me outside of skating. It is a symbol of my resilience and strength."
When asked what her goals beyond skating are, Sakura replies, "I don't know yet, but being Japanese and someone who has lived in both the US and Africa, I want to be a person that can contribute to society and work with people of different backgrounds and cultures." With her positive outlook on life, we're sure Sakura will be successful in whatever she chooses to do both on and off the ice. We wish her all the best on her future endeavors and can't wait to see where figure skating takes her next!
---