Reframe Your Training Mindset This Summer
July 1, 2022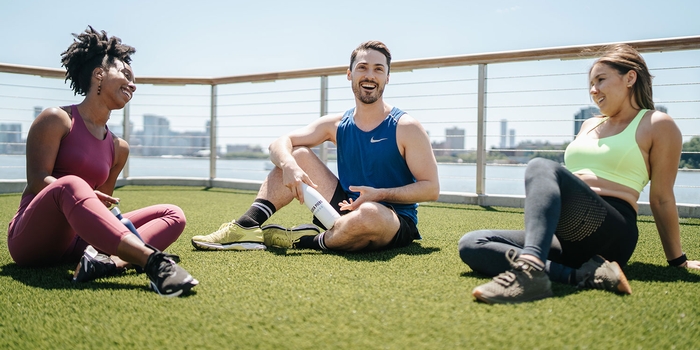 EVERY BODY IS A SUMMER BODY
We've all heard it - "summer bodies are made in the winter." While there is an element of truth to this common phrase, we would like to amend it to something with a little more nuance.
Summer bodies are made in the winter.
Every body is a summer body, and you'll feel and look your best if you choose a realistic fitness and wellness routine you can stick to year-round.
While not quite as catchy of a phrase, we think this better captures how we want to address this more well-rounded approach to fitness this summer. "ALL bodies are beautiful and valid in the summer!" said Chelsea trainer Gaby Fonseca. "That being said, if you're looking to make body composition changes in preparation for the summer, like losing fat and building muscle, that process takes many months depending on where you're starting. Most people need to start this in the winter months to get to their goal."
---
YEAR ROUND CONSISTENCY IS KEY
We've noticed a pattern at the club over the past 25 years that we've been in business. Every January, our membership numbers increase, check-ins begin to skyrocket, classes become more full, and our personal trainers get very busy. As the temperature starts to rise around Spring, we notice our check-ins start to dip. June - August are historically our lowest attended months of the year. While we love being busy and having all of our members engaged and motivated at the start of the year, we had to ask ourselves - how can we keep this energy up all year round?
Let's first touch on why it's important to stay consistent throughout every season. To maintain your progress and stay on track for your goals, year round consistency is key. If you work really hard all winter long, and then drop your routine dramatically for the summer, your progress will start to decline. "All that time that you spent building muscle and getting in shape can be erased after a few months of inactivity," said Gaby.
So, what's the best way to stay motivated year round? "Find a program or a modality that is fun for you," said Gaby. "You could be on the most optimal program for your fitness goals, but if it's not enjoyable for you, chances are that you won't stick with it for very long." Finding a routine you actually enjoy will make it easier to fight the urge to skip workouts in the summer. Experiment with different classes, and work with a trainer to explore different types of movements to find something that sticks.
If a fun workout wasn't motivation enough, our Fitness Director, Mike Nicholson, reminds us that we look and feel our best right after an intense workout. "If you want to look your best for a beach day, the best thing you can do is get a tough training session in the morning with your trainer!" said Mike.
Out of town on vacation? (Lucky you!) Check out some of our at-home workouts and tutorials on our YouTube channel.
---
START THE JOURNEY SLOW AND STEADY
According to Gaby, the way to success is slow and steady. "It's common to want to go all in when one starts on a health and fitness journey," said Gaby. When you're motivated to start working on new goals, it can be an exciting time, but it's important to slow down and allow your body to adjust to your new routine. "Doing too much too fast can lead to burnout and even injury," said Gaby.
If you're just starting out, try coming to the club a couple times per week to see how that feels. Coach Gaby recommends starting out with two days per week at the gym, and gradually adding on more. "Once that feels like a natural part of your routine, add in another day or two." And, don't forget to make it fun! If you're not having fun with your routine, switch it up until you find something that makes you want to come back. Dreading the treadmill? Try getting your cardio in a Breakaway Cycling class! Not feeling inspired by dumbbells? Try working with a trainer to explore different exercises to build muscle.
---
STAY ACCOUNTABLE WITH A FRIEND OR TRAINER
Get by with a little help from our friends - the Chelsea Piers Fitness personal training team! Our trainers are here to help you not only reach your goals, but KEEP your goals year round. "Not only will a trainer help create workouts and programs for you, but they can also help to keep you accountable when motivation is low," said Gaby.
Another great way to stay motivated is to check in with a friend. Even if you can't work out together, find a friend to check in with about your workouts and progress! If you can find a friend to bring along to the club with you, even better.
---
---